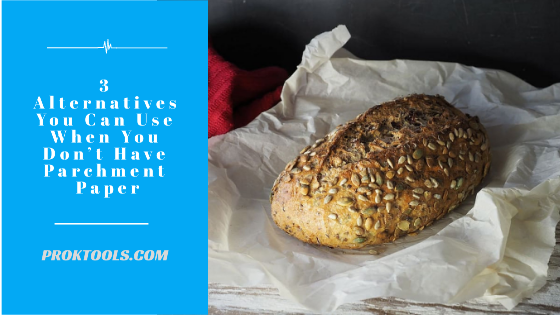 3 Alternatives You Can Use When You Don't Have Parchment Paper
Parchment Paper is paper used in baking bread so that the bread does not stick to the baking sheet. Parchment paper can also be called Baking Paper.
At a glance, Parchment paper is very similar to wax paper. The difference between parchment paper and wax paper is that parchment paper has different properties from wax paper, which is very heat-resistant and the coating will not melt even if inserted into the oven. Parchment paper can withstand baking temperatures up to around 200 degrees Celsius. Therefore, parchment paper cannot be replaced with wax paper because the wax coating on the paper will melt and even burn at high temperatures.
Don't be surprised by the high price compared to other papers. Parchment paper can be used more than once. Even for people who often make bread, for example, 2 times a week, one roll containing 5 meters can be used for 2 to 3 months.
Despite its many advantages, parchment paper is not an irreplaceable item. If you do not have or run out of parchment paper, there are other alternatives that you can use. For example, aluminum foil, using Silpat, or coating the baking sheet with flour or oil. Next, are the alternative ingredients that you can use to replace the parchment paper!
I'm always surprised to hear that so many bakers haven't discovered the shining attributes of parchment paper. (thepioneerwoman.com)
1. Aluminum foil
Aluminum foil can give the same satisfying results as using parchment paper. Simply brush the surface of the aluminum foil with oil or butter before you start baking and the result is you can get a crispy edge. Besides, cooking using aluminum foil can be a little faster. Even though it saves time, you should be more careful when using it in the oven so it is not overcooked or burned.
2. Coat with oil or flour
To prevent the dough from sticking when it is in the oven, you can sprinkle flour or apply oil on the top of the baking pan beforehand. Apply oil or butter evenly on the surface of the pan before the mixture is poured or arranged. It might not be as effective as using parchment paper, but in emergencies, this method is very useful and easy to do.
3. Silpat
For you who are lazy to put on a baking sheet if you make cookies, whether it's baking cookies, bread, just anything that needs to be shaken with a pedestal first, or that makes your hands sticky, Silpat is a tool that is perfect for you.
As the name implies Silpat, a silicone baking mat, Silpat is shaped like baking paper with a slippery surface like plastic. You can buy sheets or rolls and then cut according to the size of the baking pan you are using. But no need to bother, this Silpat does not have to be cut out every time you want to use.
Simply measure and cut to size for one pan and you can use it repeatedly. Silpat is available in various sizes, some are thick and thin, and there are several colors to choose from. Not only that, but there are also cheap and expensive prices. You can choose according to your needs.
Like parchment paper, these baking mats help to keep your baking sheets clean, so you don't have to wash them after every use.
How do you bake without parchment paper?  
Line your tray, pan or mold with aluminum foil and coat with cooking spray or butter. The purpose of using parchment paper in baking is twofold: the first being to prevent the item from sticking, and the second to act as a handle to lift the baked item from the pan if the pan is too small or the baked good too delicate to flip. Foil will not stick to the pan, and you can cut it to have extra length for easier removal. You have to butter or grease the foil to prevent the baked item from sticking to the foil. (leaf.tv)
Is Wax Paper the Same as Parchment Paper? | Better Homes & Gardens - BH&G (bhg.com)
Summary:
For those who already own these tools, this list may finally provide the motivation you need to toss that never-been-used soufflé dish.
We'll show you the top 10 most popular house styles, including Cape Cod, country French, Colonial, Victorian, Tudor, Craftsman, cottage, Mediterranean, ranch, and contemporary.
Here's how to properly wash clothes by hand, which will give extra life to those special items in your clothes closet.
Get tips for arranging living room furniture in a way that creates a comfortable and welcoming environment and makes the most of your space.
Make his day special, even if you can't be together in person.
SMARTAKE 200 Pcs Parchment Paper Baking Sheets, 9×13 Inches Non-Stick Precut Baking Parchment, Suitable for Baking Grilling Air Fryer Steaming Bread Cup Cake Cookie, Unbleached
Precut Baking Sheets Paper: Are you tired of cutting curly parchment paper? Our precut parchment sheets can let you get rid of cutting parchment anymore, the sheets lay flat on the baking tray and will not curl.

Food Grade Parchment Paper: 200 pieces non-toxic and food grade baking sheets are perfect for baking, grilling, frying and steaming, can resist temperature up to 450°F.

Non-Stick Parchment Sheets: Cookies can easily slide off the baking tray and the bread won't stick on it.

No Curly Baking Paper: We provide a rectangular packaging box, you will receive the sheets without folding, and the thin packing box won't occupy your space.

Suitable size: designed for 9x13 inches baking sheet, clean cut edges, and perfect size make for a much faster and easier cooking and baking experience in kitchen.