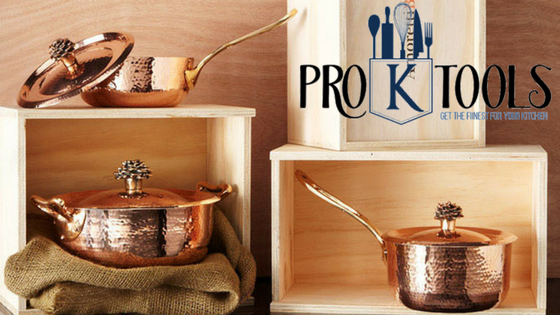 Best Copper Cookware
Some people use cooking to express themselves while others just cook without viewing it as anything more than making a delicious meal. Whatever category you fall in, you will never go wrong with copper cookware. Your time in the kitchen becomes better with beautiful and unique cookware. Never settle for an oaky meal while you can have a perfectly cooked meal by just investing in the best copper cookware. Most top chefs use copper cookware and so should you.
Here is why copper cookware is the best for your kitchen: copper will conduct heat very well, it heats up evenly and quickly and also cools down quickly compared to other metals. It is very responsive to heat thus making it the best choice for controlling cooking temperatures.
This is a very affordable copper cookware set with ten pieces thus offering excellent value for money. This is also a very well-regarded brand on the market and offers a large selection of high-quality cookware. This particular set is a hammered collection that's designed to not only liven up your kitchen but also make cooking more enjoyable.
The aluminum core and stainless steel used for the interior lining this set is totally nonreactive. This means you can use any of the pots and pans to prepare any meals without wondering if the material will react with any of the ingredients. It is also oven safe at 500 degrees max, and each of the pans and pots features a stay-cool handle. You will also get a lifetime limited warranty.
10pc set

All nonreactive materials

2.5mm thick copper

Excellent with heat control and retention thanks to the hammered design

Oven safe

You get a lifetime warranty
Features an aluminum core thus it is not as good as copper core with temperature control
This is a square copper pan that comes with several useful extras thus adding more value to it. It comes with a quality tempered glass lid, a steamer tray, a fry basket, a 4pc plastic utensil set, and a recipe book with many good recipes that anyone can try out. The pan has stainless steel, very sturdy handles, and you can use it in the oven thus ideal for baking any dishes.
The product features a PTFE/ PFOA-free ceramic interior coating plus a base made of stainless steel induction and an aluminum core plate. It has no copper in it, so the title is misleading. As such, this cookware cannot be used with metal utensils to avoid scratching it, but it works perfectly even when new. You also need to cool it down before washing it to prevent warping, and you should not use oil spray or olive oil with it. All in all, this set works as described except that it might not be ideal for the adventurous cooks.
Oven safe

Comes with useful extras

Heats up quickly and evenly

Doesn't require oil or butter
The interior coating will easily scratch if you use metal utensils
The non-stick coating might not be as effective over time

This cookware set features a copper exterior meaning it heats up and cools down quickly thus facilitating precise temperature control for easy cooking. It also features a heat surround technology that allows for an even distribution of heat thus promoting even cooking of food. This makes it a reliable cookware set for various dishes. Again, this set features contoured, stainless steel handles that remain cool throughout the cooking thus offering a comfortable grip while cooking.
It is an 11-piece set with a 1-qt saucepan, 5-qt sauté pan with a helper handle, 2 1/2-qt saucepan, 18cm steamer insert, 8-qt stockpot & lids, 10-inch skillet and 8-inch skillet. It is oven and broiler safe and very versatile when it comes to the source of heat when cooking as you can use it on gas cooktops, electricity or glass. The set also features ergonomic handles thus adding to its utility as it becomes very easy to use. But, to avoid scratching and discoloring the exterior, do not put it in the dishwasher as this could result in food sticking on the surface and also give you a hard time cleaning.
Excellent heat distribution
Handles do not get hot
Beautiful and spotless copper that shines like a mirror
Easy to clean
Oven safe to 500 degrees and broiler safe
Very affordable for an 11-piece cookware set
The lids are thin, but this will not impact the cooking in any way only that they feel different especially when washing them.
This is another well-known and respected cookware brand among most chefs. The set itself is unique and beautifully crafted to look good in just any kitchen. The construction features high-quality stainless steel lining plus durable cast iron handles. With a stainless steel, high-quality, lining, you won't have to deal with corrosion or re-tinning your pots and skillets. Again, with the cast iron, sturdy handles, the cookware is well counterbalanced thus feeling stable.
The cookware set includes a casserole pan (9.5"), a saucepan (7 1/8"), a flared sauté pan (9.5") and brazier (11"), and they all have lids. Because of its construction, this set has perfect heat retention and distribution, and the surface is super-easy to clean thus each meal tastes better, and it's very durable.
2.5mm thick copper material

Even heat distribution for even cooking

Well balanced cookware

A stainless steel interior

Unique and beautifully crafted
It's quite pricey but worth it
Conclusion
If you are planning on upgrading your cookware, copper is the way to go and above we have listed the best copper cookware on the market. However, this cookware requires proper maintenance to retain their original look, and the easiest way to do it is to clean them as recommended and store them well. You can also consider getting a copper cookware special cleaner to ensure that you'll be able to easily get rid of any oxidation residue if it ever happens. You can also use lemon and salt/ vinegar & salt.