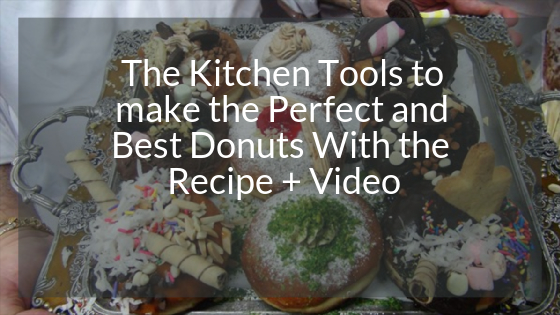 Chanuka is a great time of the year where we enjoy party's and delious foods with family and friends Below you will find a list of the different kitchen tools and equipment you would need and want to make these delicious donuts check out the rest of the post. This Recipe and Video is from Arutz Sheva TV
Credit: Eddie Yakubov – Owner of Shop Delight supermarket in Greatneck, NY
Click Here to go straight to the video
Click Here to go straight to the Recipe
Mixing Bowls
[table id=3 /]
Small Prep Bowls
[table id=4 /]
Plastic Wrap
[table id=5 /]
Tray
[table id=6 /]
Portable stove
[table id=7 /]
Wide Pot for Frying
[table id=8 /]
Gloves
[table id=9 /]
Optional Mixer
 [table id=10 /]
[easyazon_link identifier="B0002Y5X9W" locale="US" nw="y" tag="alang-20″ cart="n"]For a More Professinal Mixer Click Here[/easyazon_link]
Video by Arutz Sheva TV
Credit: Eddie Yakubov – Owner of Shop Delight supermarket in Greatneck, NY 
[su_youtube_advanced url="http://www.youtube.com/watch?v=RuoJyrm3c00″ width="240″ height="220″ rel="no"]
Full Recipe
Ingredients:
2 ½ tsp – Yeast 1 Cup – Warm water 1 Egg 1 Cup – Sugar 1 or 2 Tsp – Lemon juice 1 ½ Tsp – Oil 3 Cups – Flour
 Directions:
First Add the ingredients in this order yeast, warm water, 1 egg, sugar, lemon juice, oil and add the flour one cup at a time.
Start mixing (going to be a little sticky) once you mixed everything together very well, cover with plastic wrap
Set it aside to rise for at least a half hour.
After a half hour, we are going to start making the balls.
You're going to take around 4 ounces and roll into balls tightly and set aside for another half hour (you will see it double in size and look like a nice donut shape).
In this half hour heat your oil (not too high) in a wide pot. Make sure the oil is a little deep so you can turn it around.
Give it 2 to 3 mins on each side (it should look nice and light brown).
Take out and let it rest for 10 mins. Once they are cooled down and rested you can start decorating.
SEE VIDEO ABOVE FOR BEAUTIFUL AMAZING DECORATION TIPS
More Picture:
[su_custom_gallery source="media: 358,357,356,355,354,353″ link="image" width="110″ height="100″ title="never"]