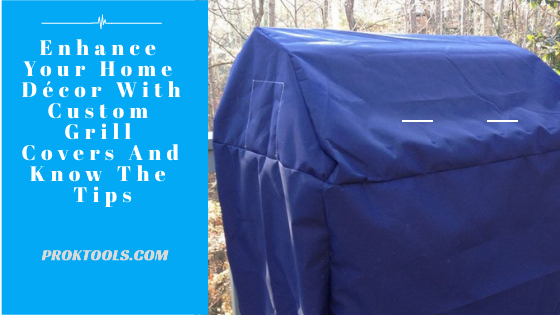 Enhance Your Home Décor With Custom Grill Covers And Know The Tips
Summary: Are you confused whether or not to buy grill covers? Find out your answer right here and pick the best option.
The arrival of summer time synchronizes with grill and barbeque, and if you have a nicely landscaped backyard or an embellished rooftop garden to complement, you are good to go. However, you cannot skip the aspect of grill cover as it goes a long way in protecting the object that present those delectable and juicy grilled meat during the parties. Moreover, if the grill you have is not made from materials, such as aluminum and steel, it becomes susceptible to rust, wear and tear, or corrosion.
Usually, the grill is not in use throughout the long periods of winter and if you fail to choose the best cover, it can take a toll on the performance of the grill. Keeping the grill poorly covered also exposes it to acid rain, moisture, dirt, and a lot of things that stay in the open. Therefore, investing in a grill cover is essential for its protection.
And as long as you're protecting your grill, who says that it can't be aesthetically pleasing, as well? The protection of your grill doesn't have to come at the cost of its looks, and there are several great options available on the market that will fit in with the theme of your house and enhance your home decor with its design.
Materials to select
Before you go ahead with your selection of covers, why not take a sneak peek into the common materials that you can avail. Take a look at what and why you need to choose.
Vinyl cover is one of the options to select as it protects the outdoor grill when it rains heavily. However, the qualities of vinyl covers can differ. For instance, you can invest in heavy-duty covers or the lighter and thinner one based on your needs. Remember, the cheaper it is, the lesser is the longevity of the material.
Another thing you need to consider is that thicker vinyl covers, while providing more protection, can be slightly more difficult to put on and take off. If you use your grill very often, this might be something that you should consider while buying a vinyl cover.
Canvas is another kind of material and one of the best options for outdoor grills. Usually, the canvas covers stay resistant to all kinds of weather including fire. What makes it even more attractive is that it is not high-priced despite the durability it offers?
What makes it even more attractive is that it's not high-priced despite the durability it offers.
Canvas can be quite durable, but it does not compare with the durability that's offered by Vinyl. While vinyl is resistant to both weather and wear and tear, canvas might get damaged if not handled properly.
Another common choice for grill cover is polyester, which is lightweight and resistant to different weather. The durability allows it to last for several years and chemical treatment makes it resistant to sunlight and weather.
Therefore, you can choose from the options mentioned above when buying grill covers that protects the object when it stays unused for a long time.
However, when it comes to buying covers that enhance the look of your home, here is what you need to know.
Checking the best brands
There are specific brands that have been offering durable and high-quality covers for many years. So, you can get them from reputed companies if you are brand conscious. However, to switch to different patterns of covers, you can also check the offerings of new companies as it can provide you the opportunity to customize the covers according to the size and other specifications. If you desire to have a snug fit cover with the patterns or designs of your choice, you have something to look forward to when it comes to enhancing your home décor.
Weather
The area in which you live doesn't necessarily determine whether or not you need a cover for your grill, but it does determine what type of cover you should get.
For example, if you live in an area that's humid and sees a lot of rain, you need something that is water resistant and will protect your grill from water damage and rust.
However, if you live in a dry area, you cannot leave your grill uncovered just because you don't get a lot of rain. A lot of dry areas can get windy, and wind brings dust and debris with it that can settle inside your grill, affecting its working and ruining the taste of your grilled foods.
For this reason, no matter the weather and general climate of the area you live in, you should choose to go for a cover for your grill.
The final tip
If you live in an area that stays damp and humid for major parts of the year, take your pick today to cover the grill. Even if you live in a dry climate, covering the grill allows it to stay protected from dust and debris. No matter where you reside, sheltering the grill is a safer and better option to keep the damage away and enjoy barbeque during the summer.
Final Word
Finding the right grill cover can help you in multiple ways. It will ensure that your grill stays clean and that your grilling sessions are not interrupted by cleaning time, and it will also lend a look of elegance and aesthetic appeal to your house.
In this article, we learned how to enhance your home decor with custom grill covers and know the tips behind which covers you should choose to make this experience better. We hope that this article has helped you make the right choice according to your requirements.
If you're interested in similar topics, feel free to check out our other articles, as well!
Enter your text here...