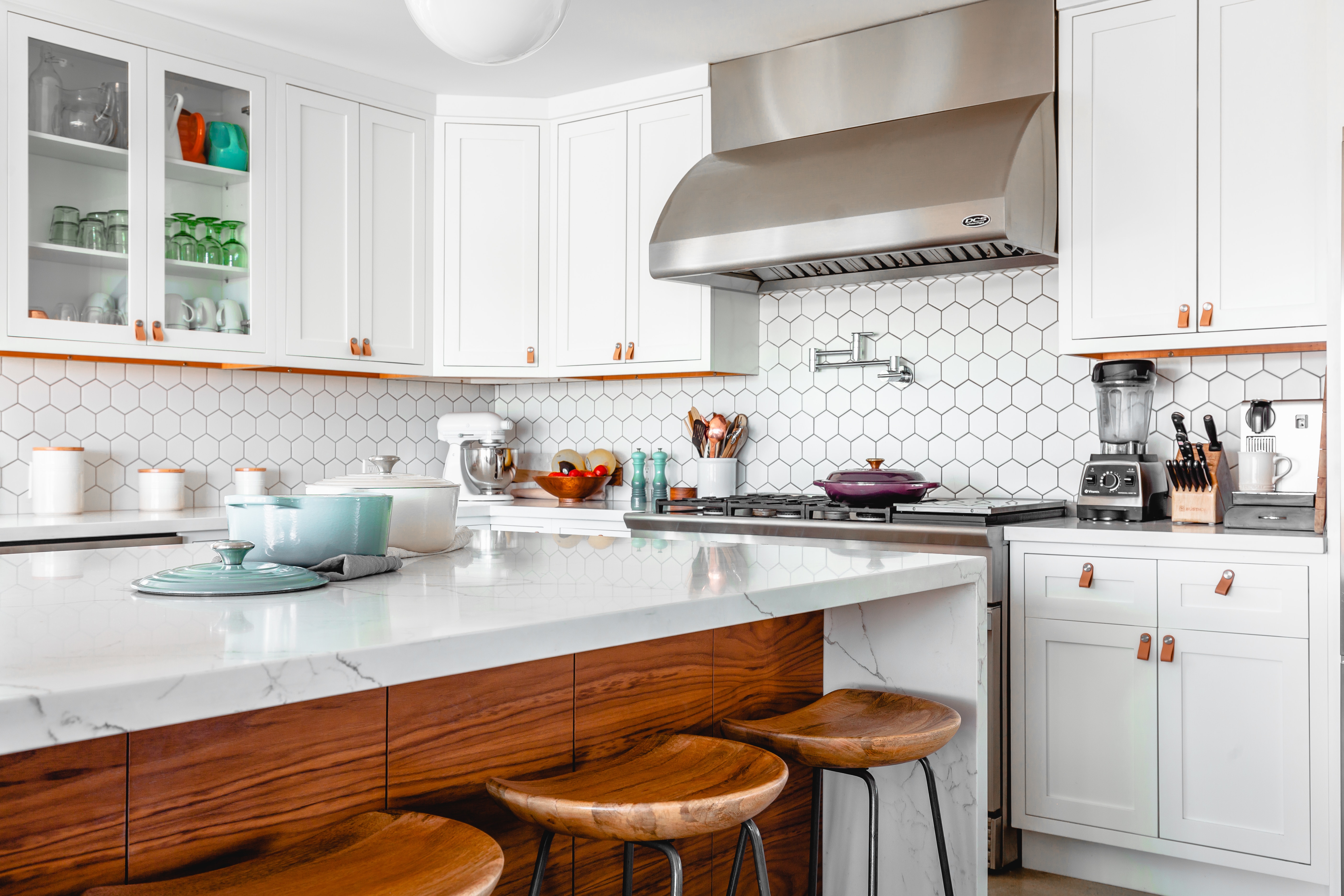 How Can You Make Your Kitchen Look Modern?
Kitchen is the heart of a home. That's where all the gastronomic magic happens. When guests come over, our kitchen often becomes a low-key hangout spot. So it's crucial to make sure that the kitchen matches the standards of our modern lifestyle and kitchen design trends.
I know that the kitchen renovation process can be overwhelming. There are so many ideas but you can only execute a few. To help you transform your kitchen into a modern architectural marvel, I have listed down a few clever ideas. These ideas will work for both small and large kitchens.
8 Kickass Ideas to Upgrade Your Regular Kitchen Into a Chic Contemporary Kitchen
Budget is a big concern while redoing a kitchen. Let me tell you one thing, redoing a kitchen doesn't have to cost an arm and a leg. While you can certainly splurge on expensive fixtures and decorations, there are tons of cost-effective options too. The ideas I have listed below will fit every budget group.
Swap the Old Hardware with Cool New Ones
Kitchen hardware is the soul of your kitchen. It is the first thing your eagle-eyed guests will notice when they see your kitchen. It isn't just about the show-off, though. Quality kitchen hardware enhances the cooking experience manifold.
Replace your old, raggedy kitchen cabinets with fresh new ones. For example, the color of the cabinet should contrast the floor and wall color of your kitchen. If the floor tiles of your kitchen are white, installing a rich black cabinet would add a bold contrast.
If you love more artsy stuff and wish to be more experimental, pain the upper and lower part of your cabinet with different, bold colors.
If don't want to invest in new cabinets, you can also just refinish the old ones to give it a fresh look. Replace the shabby doors with glass doors or simply opt for open shelving to display your fanciest china.
Re-design the Counterspace
Leaving the counter space unattended is one of the most common kitchen remodeling mistakes people make. The counter space is just as important as the hardware. Because that's where all the main cooking job happens.
Marble kitchen countertops are an evergreen beauty. But modern kitchen design experts are also experimenting with different materials like wood, oak, copper, raw concrete et cetera.
 Do you want something uber-luxurious or a plain and simple, durable and stain-resistant countertop? Or both? Think about it, set a budget for the countertop and pick a model accordingly.
Add Drama with Contrasting Colors
The rule of thumb while painting a kitchen is to bring out the contrast. Using contrasting accent colors for the walls and the cabinets will dazzle anyone who enters the kitchen. You should ideally use lighter colors on the cabinets, such as white or light brown.
As I said in point no. 1, you can also paint the upper and lower parts of your cabinet with two contrasting colors. A lighter color reflects light, improves visual depth, making your kitchen appear larger and brighter than it actually is. No matter which cabinet color you should, white or dark, it should contrast with the color of the tiles and wall.
To pair it up, apply a fresh coat of bold red or maroon color on the wall. Painting a single-wall with bold color also makes a great style statement. Contrast is the key, remember that.
Elegant Lighting to Brighten up Your Kitchen
Modern kitchen design is all about playing with different colors and lighting combinations. The first thing to pay attention to is the lighting above your gas stove. This is your main cooking area and should be well-lit. Upgrade your cooking space with a low-profile yet feature-rich range hood.
Contemporary range hoods are an essential part of both professional and household kitchens. They look amazing and also keeps the kitchen air fresh and odor-free. They also serve another purpose.
These range hoods come with bright LED lights that focus the light on the gas stove. However, the range hood has to be installed and positioned precisely in order to create a stunning visual effect. For the rest of the kitchen, you can use simple LED backlights or go for exquisite glass pendants.
Add a Dash of Charm with Fresh Flowers
Keeping fresh flowers in the kitchen in gorgeous vases is not a new trend. This pro kitchen design tip has been passed on to us through many generations.
Potted orchids, daisies, cherry blossoms, daffodils, English ivy, string of pearls, white jasmine are some of the best plants to keep in the kitchen. You can use handpainted ceramic planters or elegant glass planters. Decorate the planters with pebbles to make them eye-catchy.
Glam It Up with Stainless Steel Appliances
Stainless steel countertops and appliances are the latest trends. It adds a professional, restaurant kitchen vibe to your humble home kitchen. Steel finish appliances also last long. However, you will need to stretch your remodeling budget to own them. If you don't want to spend extra, simply go for paint-on stainless steel finish to jazz up your old appliances.
Central Kitchen Island for Spacious Kitchen
If you have a lot of space to spare in your kitchen, make the most of it by installing a central kitchen island. It will instantly become the focal point of your kitchen. It will also make the entire house appear airy, roomy and well-organized. Having a spacious countertop gives you more room to prep your food as well.
Breath Life with L-shaped Kitchen Layout
L-shaped modular kitchens is another popular kitchen trend of the 21st century. It comprises of two countertops, one shorter than the other. That way, you are creating two different work zones in one kitchen. A perfect complement to modern living style, this layout is considered to be best suited for small kitchens.
Parting Words
You don't have to be a certified interior designer to decorate a luxe modern kitchen. By making a few minor modifications here and there, you can scale up the look and feel of your kitchen.
Also, remember that modern kitchens aren't just about hi-tech fixtures and fab lighting. It is about convenience too. Having a well-decorated, nicely illuminated kitchen with modern kitchen appliances will help you improve and enjoy cooking.