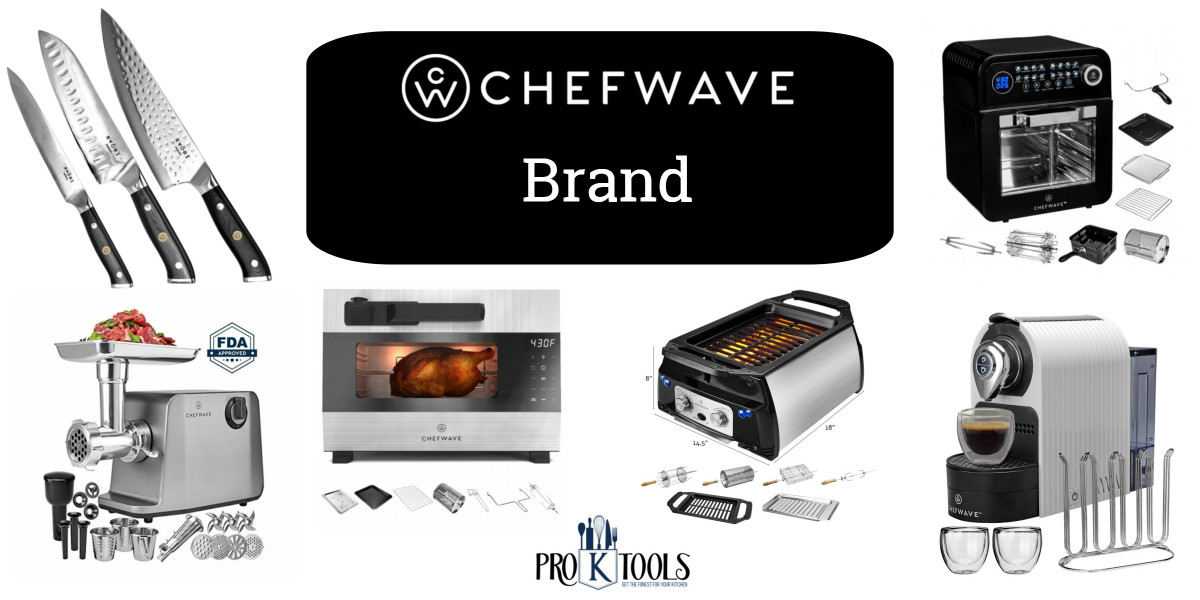 The Top ChefWave Brand Products
ChefWave is a new kitchen retailer that has put out some affordable yet functional appliances of late that we really like. Here's a rundown with our pros and cons:
Image
Title
List Price
Prime
Buy

Top

Top

Top

Top

ChefWave Smokeless Indoor Electric Grill & Rotisserie

Prime

Eligible

Buy Now
ChefWave CW-IC01 1800W Portable Induction Countertop Burner - Bonus 10" Copper Frying Pan - 20 Power/Temp Settings Digital LCD Touch Kitchen Cooktop Electric Cooker - Energy Efficient, Safety Lock

Prime

Eligible

Buy Now

Top

Top

ChefWave 12.6 Quart Air Fryer and Dehydrator Large Capacity 1600W Oil Free Cooker with Upgraded Dial, Blue Light, 16 Presets and Modes and 8 Accessories, Includes Recipe Book

Prime

Eligible

Buy Now

Top

Top

ChefWave Electric Meat Grinder - FDA Approved - Stainless Steel Heavy Duty 1800W Max 3-Speed - 4 Grinding Plates, 3 Cutting Blades, Vegetable Slicer, Tomato Juicer, Sausage Stuffer Tubes, Kibbeh Kit

Prime

Eligible

Buy Now

Top

Top

ChefWave Mini Espresso Machine - Nespresso Capsules Compatible - Programmable One-Touch 27 Oz. Water Tank, Premium Italian 20 Bar High Pressure Pump - 40 Pod Holder, 2 Double-Wall Glass Cups - White

Prime

Eligible

Buy Now

Top

Top

ChefWave 1600W, 27qt Digital Pressure Oven with LED Touch Control Panel - Rotisserie,Roasts, Broils, Bakes and Toasts - 5 Levels of Safety Protection - Includes 7 Accessories

Prime

Eligible

Buy Now

Top

Top

ChefWave 6 Tray Food Dehydrator Machine - Stainless Steel, Digital Temperature Control & Timer, 3 Teflon Sheets, 2 Mesh Sheets and Drip Tray - for Dried Fruit, Jerky, Herbs - Recipe Book Included

Prime

Eligible

Buy Now

Top

Top

ChefWave 8 Inch Chef Knife - 67 Layers of Ultra Sharp Japanese Damascus Steel - Professional AUS-10 Blade - Premium G-10 Handle, Comfort Grip, Hammered Finish Includes Knife Sharpener & Cutting Board

Prime

Eligible

Buy Now
ChefWave 12.6 Quart Air Fryer and Dehydrator Large Capacity 1600W Oil Free Cooker with Upgraded Dial, Blue Light, 16 Presets and Modes and 8 Accessories, Includes Recipe Book
No Prime Logo
Buy Now
ChefWave Air Fryer Oven
Air fryers are becoming more and more popular, and it's not hard to see why. Traditional frying and deep frying leaves a mess and is hard to clean up. It's also unhealthy, requiring you to gulp down gobs of vegetable oil or butter. An air fryer delivers your chicken wings, fries and more by cooking with nothing but hot air.
One air fryer we've fallen in love with is the ChefWave Air Fryer Oven. Offering a lot of functionality at a discount price, it's a fine choice for someone looking to switch to an air fryer for one's convenient cooking needs.
The ChefWave Air Fryer Oven has a 12qt extra large capacity, allowing you to cook a whole feast. This size is big enough to cook a full-size chicken (rotisserie tools included) or, using the included racks, cook two different foods simultaneously.
In addition to the rotisserie fork, this Air Fryer Oven from ChefWave supplies a wire rack, mesh basket, frying basket, drip pan, skewer rack, baking cage, and a handle tool for cooking in multiple ways. As the name implies, the Air Fryer Oven isn't just a fryer; you can grill, roast, bake, stir-fry and more with this gadget.
It also provides presets as you would find on a microwave. The settings make it easy to cook fries, pizza, steak and more with one touch. There are also settings for keep warm, dehydrate, defrost, etc.
ChefWave Pressure Oven
ChefWave specializes in offering appliances and accessories that don't break the bank yet rival the features and functionality of the established brands. Their Pressure Oven is a worthy entry into this group.
Like the Air Fryer Oven from ChefWave, this oven is generous in its capabilities, letting you bake, roast, broil or toast at the push of a button. Also like the Air Fryer Oven, the Pressure Oven even has a rotisserie function for cooking a whole chicken.
This machine works like a normal pressure cooker to seal in the flavor and moisture. The results are fabulous, and it's easy to use. The pressure cooking function is optional; you can turn pressure mode on and off using the touch panel.
The ChefWave Pressure Oven fits on your countertop similar to a toaster oven at 19"L x 14"W x 14"H. Despite that relatively compact size, it feels very spacious. It's feasible to cook a whole chicken dinner for the family in the ChefWave Oven.
It comes with a 1 each of the following: pan, rack, crumb tray, rotisserie tool and roast basket. It also conveniently comes with removal tools, a user manual and a recipe book in the box.
ChefWave 7.4 qt. Air Fryer
As with the Air Fryer Oven and the Pressure Oven, the functionality you get from the 7.4-quart Air Fryer rivals the major brands at a fraction of the price. The 8-quart Power XL goes for close to $200, while ChefWave's offering sets you back a mere $120. Based on how the ChefWave version performs, it's hard to justify spending the extra dough.
It offers one-touch operation via a digital touchscreen control panel. This is where you access the 7 presets (fries, meat, chicken, steak, cupcakes, shrimp, fish), as well as the temperature and time adjustments. It is a little tricky at first but overall is user-friendly as advertised.
Cooking is efficient and even. It uses "advanced 360° heating technology" that circulates air at high speed on all sides of your dish. This produces tender and juicy meats and delicious fried foods without the oil.
The ChefWave Air Fryer is designed with a stainless steel body and panel with a nonstick drawer. It has a frame compact enough for most countertops and has a modern black look.
Ryori Series Kitchen Knives
The Ryori knives might be the biggest steal ChefWave has to offer. This series of high-end knives can be had without spending your whole paycheck on them, something that cannot be said for the most well-known brands.
Right now, ChefWave offers three Ryori knives: the 6" utility knife, the 7" santoku knife and the 8" chef's knife. All three knives feature an 11-15° angle per side, which means incredible sharpness, as well as elite hardness at 59 RC (Rockwell). Anyone whose used the cheap Target or Ikea knives knows how hard it can be to hone your slice thickness and precision with them. These Ryori knives get the job done for frankly not much more money; there's really no reason to opt for the low-performance knives when these are available.
A little about the steel: They use an "AUS-10 Japanese super-steel core with an extra vacuum-seal treatment," as well as extra strong 67-layered Damascus steel sharpened using a grinding stone wheel.
Finally, and nearly as importantly, the grip is worth noting as well. The knives use a triple riveted, military-grade G10 handle with a non-slip grip. The knives are ergonomic and smooth and really make cutting, slicing and chopping a breeze.
The Utility Knife is 6 inches long and ideal for cutting fruits, herbs, cheese and vegetables

The Santoku Knife is an all-purpose 7-inch knife inspired by Japanese cooking, perfect for precisely chopping meat, fish and veggies

The Chef's Knife is a multipurpose knife for your general kitchen tasks: mincing, chopping, slicing, etc.
Ryori knives are built to last long and feature a lifetime warranty.
ChefWave Minća Meat Grinder
The Minća Meat Grinder from ChefWave is a powerful grinding machine for working with sausage, lamb and more. It has a special attachment for making kibbeh, as well as attachments for slicing tomatoes and vegetables. The Minća makes slicing, grinding and pounding meat much easier.
ChefWave Kava Espresso Machine
What makes the Kava a fantastic choice for an entry level espresso maker, besides being generally easy to use, is its compatibility with Nespresso capsules. Those familiar with Nespresso pods will appreciate a machine that offers Nespresso compatibility and more.
The Kava lets you make your coffee in either regular espresso size or lungo (long). It comes in multiple colors and is compatible with milk frothers. ChefWave bundles two coffee mugs and a double-sided Nespresso capsule holder to get you started.
ChefWave CW-SIRG Indoor Smokeless Grill
Whether you are looking to cook a rotisserie chicken, grill some skewers or just lay down some beef patties, the ChefWave CW-SIRG Smokeless Indoor Rotisserie Grill is a neat appliance to have around for apartments or dorms, or when you just don't feel up to the task of setting up your outdoor grill.
The CW-SIRG Indoor Grill comes with a rotisserie spit, teflon and mesh mats, 7 skewers for shish kebab and more. It isn't actually literally smokeless, but it can be used indoors with a fan and the window open; smokeless enough, anyway. But it does a lot for a relatively compact appliance.