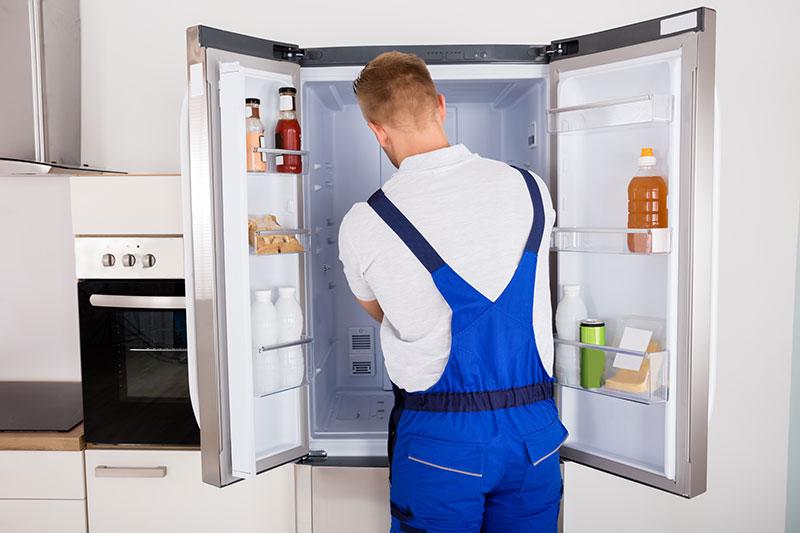 How Freezer Repair Can Help You – Guest Post
Normally, a big size refrigerator is enough to meet one family needs. But, with the recent change in trends, many buyers purchase an additional freezer to store various types of products for almost a year. If the freezer fails, it can cause a real tragedy. After all, either you have to throw or to eat them at once all the stored items. Whereas the second option is impossible and first can be costly enough. So, to deal with this issue first you need to understand the major freezer break down failures and then how the repair to them can benefit you.
MAJOR MALFUNCTIONS AND THEIR CAUSES
● The most common reason for malfunction of the freezer can be related to plugs, cable or outlet disconnection. In this case, no light will come on in both sides.
● The compressor runs for a couple of seconds, and then stop. This indicates the breakdown of the refrigerator that you must view here is in the motor, which is responsible for the operation of the freezer. This happens due to increased load or natural deformations during operation. Unfortunately, it cannot be repaired in case of a breakdown. So, replacement of the compressor is necessary.
● The motor works but turns off more often than normal and for a long time. Normally, it works on 1 to 2 mode, means 15-minute running and 30-minute rest. But, if it does not work accordingly, means there is the failure of the freezer air sensor. And the control board stops receiving signals about the required temperature drop in the compartment, so the motor does not turn on. Replacing the sensor is the best option.
● If freezer starts giving long pause means there is a breakdown in the thermostat. The thermostat stops transmitting information about the temperature level. In this case, replace the temperature controller.
● In the single compressor with No Frost system refrigerator, if the freezer does not freeze well mean that the switching valve has broken. In this case, the refrigerator simply does not have enough power for normal operation. So, the valve must be replaced.
● The appearance of rust in the freezer compartment indicates poor freezing performance.
● Refrigerant leakage in the steel circuit is possible. Another reason is a blockage in the drainage hole which is followed by water leakage and rust formation.
● The freezer does not work after defrosting. Many a time, people apply physical impact on it for thawing ice with sharp objects, a hair dryer, a fan, and so on. Doing so may cause the refrigerant leakage. This is especially true for modern models of refrigerators. They require extreme caution for handling. In this case, you can not do sealing and refilling of freon. This procedure must be performed by a specialist only.
● The freezer does not freeze and other signs are not observed. So, there is a possibility for breakage of the control module. This will require the firmware of theunitoritsreplacement.
BENEFITS OF FREEZER REPAIR
● Cost Saving Technique
If there is a great mountain between repairing and replacing your freezer, then you must consider the former option. On the one side, you can save many bucks and on the other side, repairing makes your freezer like new again.
● Know What You're Getting
With the repairing procedure, you know what you are getting. As you have been previously worked on that appliance, so this time also you know how to handle and use it. Whereas in the case of a new freezer, there is always a risk involved that how it will work? How to operate its functions? To get the answer of your these question either you have to read full manufacturer manual or to attend demo classes. But, both of them are a really time-consuming method. So, to avoid them repairing is a better option.
● Increase Freezer Life
Every appliance has its own lifespan. Same in the case of the freezer. A new freezer bears more than 10 years life. So, if your freezer is less than 10 years old then its good news for you. You don't have to replace your freezer, simply repairing can be enough to boost its life.
SOME OTHER BENEFITS
● Your Food Won't Spoil
Freezer store many food items like milk, soda, juices, vegetables, fruits, chicken cheese etc. When it gets fail all your item spoil overnight. Repairing freezer at an optimum time prevent your food from going bad. Many people store a full year's food items in their refrigerator, so delay in repairing can cost you for hundred dollars loss. But if you call Inglis Freezer Repair Montreal on time you can save your food items.
● Frozen Foods Won't Melt
Freezer works much more than ensuring the integrity of ice-cream. Many people preserve food items like bread, fruit, meats, and vegetables. Freezing the perishable products also extend their life many more weeks than a refrigerator. But, if it stops working properly you will definitely lose many valuable items. So your freezer repairing can help you in saving lots of money.
● Business Operations Won't Stop
Many businessmen use freezer at their business place like in departmental stores, bars and restaurants etc. It helps them storing items for the long run. For example, restaurants constantly serving many people and each time its menu varies. Because different customers prefer different drinks and being a restaurant owner you have to store all. But, in the case, your freezer stop working all your work will suffer. So, repairing at a right time will help you for smooth business operations.
Final Words
Hope, the above-mentioned points provide you complete guidance over how freezer repair can help you. So, for the smooth workflow and to prevent your food from spoiling, repairing at right time is essential.
Author Bio: Jeff Sears is professionally a technician and a part-time blogger. He is working for A Plus Repair which helps in your large home appliance repair like Inglis Freezer Repair in Montreal. He has more than 7 years of experience in repairing electrical appliances.